Biking is beneficial for many reasons.
It is a great and fun way to exercise while also getting around to where you need to go.
But the question is, which bike to choose? Which is the right bike for your size, your requirements, your environment, and your condition?
In this article, we will answer that questions in detail, along with other relevant information that you might need when buying a bike!
Advertising links are marked with *. We receive a small commission on sales, nothing changes for you.
Choosing the correct type of bike for you
There are many bike models available, and each one serves a certain function. In this bike buying guide, we will go through the fundamentals of each of these.
Road Bikes
Road bikes are designed for riders who want to stay mostly on paved surfaces. They are not designed for off-road riding; they are made for speed, and the many gears allow comfortable riding.
Mountain Bikes
Riders who frequently travel off-road should choose the mountain bikes or even a dirt bike.
This style is for you if you intend to ride on woodland roads, dirt, and generally avoid asphalt.
Hybrid Bikes
Bicycles that combine the two aforementioned kinds are called hybrid bikes.
They perform admirably on mild off-road riding and are excellent for city rides and commuting. In case you want to ride on many surfaces, this is the one for you.
Touring Bikes
Cycling journeys that will last longer than a usual bike ride and require carrying a lot of weight are ideal for touring bikes.
BMX Bikes
Riders who enjoy pulling off various tricks and cruising along tend to favor BMX bikes. If you intend to strictly use your bike as a means of transportation, don't consider BMX bikes.
Cruiser Bikes
These bikes are designed for having a relaxing upright posture, ideal for using bike lanes or for riding along the beach.
Gravel Bikes
Gravel bikes are best suited for off-road cycling excursions, and if you are going to ride on gravel for an extended period of time.
Electric Bikes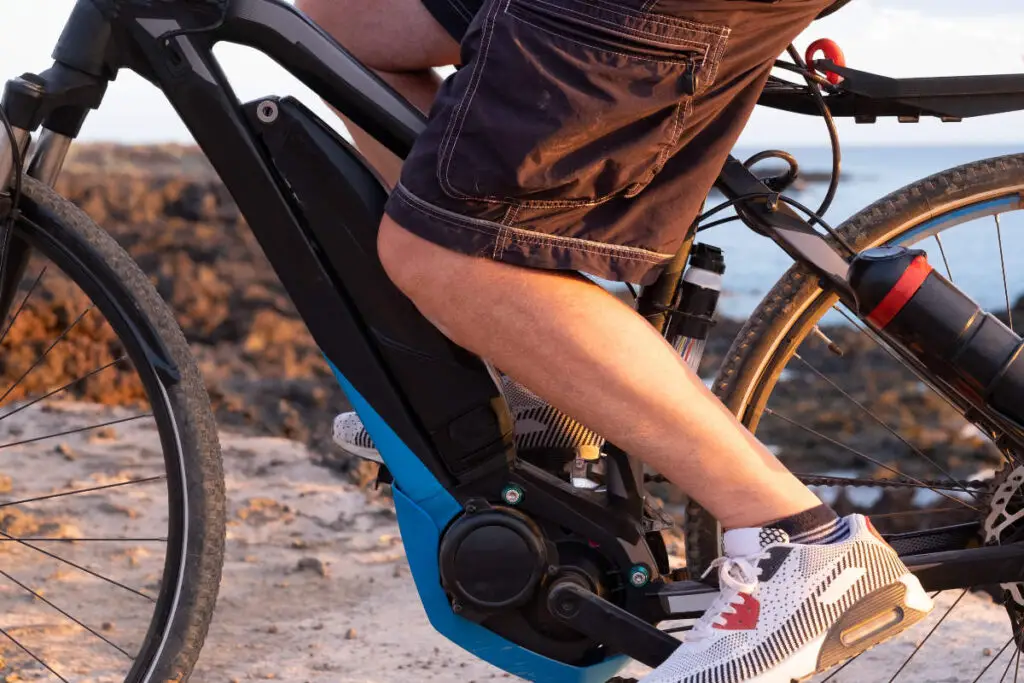 These have an electric motor that activates when you cycle to provide you with more power, effectively minimizing your physical effort.
If you are looking to get exercise out of your bike, you will have to skip this one.
Conclusion: Choosing the right bike for your needs
Ultimately, a road bike is a fantastic option if you plan to stay on paved surfaces. It could also be appropriate if you plan to use your bike primarily for transportation, but also want to get in that exercise at times.
For quick, laid-back rides with the family or friends, a cruiser bike is preferable.
A versatile gravel bike is probably the best option if you want a bike for fitness and commuting and anticipate riding on both paved and natural-surface paths.
The best option for off-road riding is, of course, a sturdy mountain bike.
Setting your budget expectations
So, let's assume for a moment you already know the kind of bike that suits your needs perfectly. Quality in bicycles, as with almost everything else, is a case of you get what you pay for.
Non-electric bicycles usually go for $200 and up. It's not like less expensive ones do not exist, it's that they are nearly always of much lower, poor quality.
If you're looking to purchase a reasonably priced road or mountain bike, consider spending somewhere around $500 to $750. A good hybrid or "inexpensive" gravel bike will cost roughly the same.
These are the most common bike types that people opt for, that is why we are mentioning them as examples here.
A strong metal frame, a sturdy fork or simple front suspension, a broad-range transmission, rim brakes, or cable-actuated disc brakes are all included in the $300 to $500 price range.
$500 to $1,000 can buy you better front suspension, some versions have hydraulic disc brakes, and lighter tires and wheels.
$1,000 to $2,000 gets you tighter frames made of carbon or aluminium, improved suspension, hydraulic disc brakes, and even lighter tires and wheels.
What If You Spend Too Little On Your Bike?
It's usually preferable to spend a bit more than necessary when deciding how much money to spend on a bicycle. This is because all bikes are built to withstand a certain degree of physical punishment during rides.
While less expensive bikes are basically only suitable for more leisurely rides, more expensive bikes can withstand more damage.
You will also have to spend more money on upkeep and part replacement if you get a less expensive bike and damage it while riding. As a result, buying a less expensive bike later on will cost you more money than buying one immediately.
Most important bike components explained
There are a couple of components you should consider when buying a bike! Keep reading to find out about each important component on your bike!
Frame
Frame is the bicycle's most essential part. It's made of metal, most frequently aluminium, occasionally steel, and sporadically titanium. It can also be made of carbon fibre on more premium ones.
Frames have several sizes to accommodate riders of various heights and weight.
Suspension
Suspension consists of front and rear hydraulic shock absorbers. What it does is soften the blow when going over obstacles and bumps.
For instance, you need extra suspension on bumpier trails.
Wheels
Wheels are composed of the rim, the rubber tire, and the hub, which is joined to the rim by spokes.
We'll take a closer look at tires and the question of the right tire size for you shortly.
Drivetrain
Drivetrain usually has up to 36 gears, with 1-3 in the front and up to 12 in the back. Standard chains are mostly used, but some bikes even have belt drives.
Brakes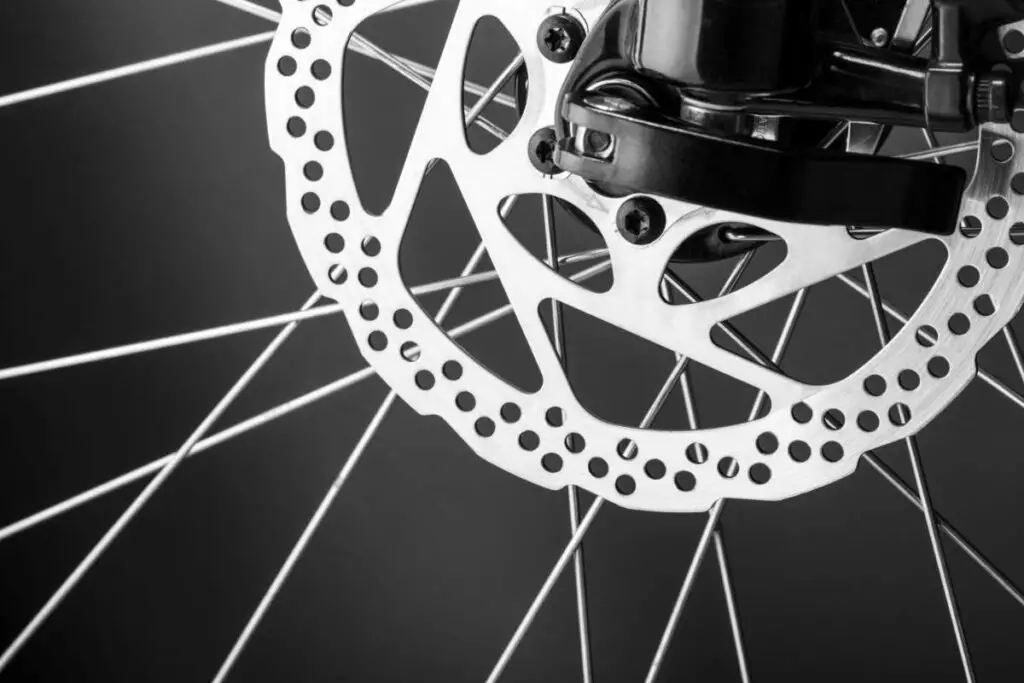 Brakes are quite self-explanatory, but we'll go ahead and mention them anyway.
There are three types of brakes – coaster hub, rim, and disc brakes.
Bikes like cruisers usually use coaster hub brakes. From low-cost city bikes to pricey road racers, rim brakes are the most common ones. Disc brakes are reserved for high-end bikes.
Contact Points
Contact Points include the handlebar, seat, cranks and pedals.
Now you know them all, so when buying a bike, you will know what you have to inspect in order to have the best bike out there for you.
Choosing the right bike size
Selecting the proper size is actually pretty simple and straightforward, thankfully. Determining your proper size fit is one of the most crucial aspects in finding the ideal bike for you.
If the size does not fit you well, you will not be able to use it as intended. Even if you get the most expensive and correct type of bike.
You should consider three key factors while selecting the proper bike size, wingspan (arm span), inseam length, and your height.
You can sometimes determine the correct size by looking up the information in the bike size charts and comparing it to your height.
Your inseam length and arm span, on the other hand, will be useful if you are stuck in-between sizes and are generally unsure.
Usually, whenever you have to choose between two sizes, go with the larger one. However, if you have a long inseam and a small arm span, you might want to choose the smaller size and simply raise the seat a little bit.
Numerous online bike size calculators are available to help you determine the correct size by measuring your particular body areas. You ought to check them out as well because they might be quite beneficial.
What's the right wheel sizes?
When selecting the best bicycle size for yourself, wheel sizes are also crucial. The majority of bikes nowadays use the following wheel sizes:
Most hybrid bikes and road bikes use the 700C wheel size, as it's the most common one.
Touring bikes and road bikes for riders of a smaller stature generally typically use 650b.
26″ are rare nowadays, but can still be found on some mountain and touring bikes.
The most common size for modern mountain bikes is 27.5′′ as they blend the greatest qualities of wheels that are 26″ and 29″.
29′′: are usually designed for taller riders and quick downhills. They are becoming more common in mountain bikes as well.
Children' sizes are 24″, 20″, 16″, and 12″. 20-inch wheels are also typical for BMX bikes, as they tend to be quite smaller.
In the majority of cases, when you buy a road or city bike, it will have 700c wheels. The same can be said for hybrid bikes. On the other hand, if you aren't a particularly tall person, you can think about 650b wheels.
You should seriously think about the type of mountain bike riding you intend to undertake when choosing between 26″, 27.5″, and 29″ wheels.
The 29″ wheels are the best option if your major goals are quick descents and riding on rough terrain. The 27.5ers, on the other hand, are the best option if you want a bike that will be more agile when cornering.
Here is an overview of common wheel sizes:
| Tire Size | Diameter (in) | Width (in) |
| --- | --- | --- |
| 20 x 1.75 | 20 | 1.75 |
| 20 x 1.95 | 20 | 1.95 |
| 20 x 2.125 | 20 | 2.125 |
| 26 x 1.5 | 26 | 1.5 |
| 26 x 1.75 | 26 | 1.75 |
| 26 x 2.125 | 26 | 2.125 |
| 27.5 x 2.2 | 27.5 | 2.2 |
| 29 x 2.0 | 29 | 2.0 |
What bike brands should I be looking at?
There weren't that many options and brands back in the day.
Days like those are long, long gone. Nowadays, you now really need to understand how to purchase a bicycle, and where and who to look at. There are even many obscure brands that continue to manufacture good bikes.
Choosing good cycling brands like, for instance,
All-City Cycles
Diamondback
Cannondale
Trek, Giant
Canyon
is always a good option.
Some of these also produce inexpensive bicycles, so purchasing one of their models will not be too pricey.
We will go ahead and list some best bike manufacturers out there:
Trek
Trek is a bicycle company that, unbelievably, started out in a barn in 1976, which is a testament to its modest beginnings.
Given that Lance Armstrong rode a Trek 5500 to victory in his first Tour de France in 1999, they appear to have fared well since. After that particular victory, he rode Trek bikes to almost all of his victories in a row.
Trek also established its Advanced Concepts Group in 1998. More precisely, that is a team of engineers and technicians dedicated to the advancement of bike technology.
It's easy to understand why so many riders think this is the best bike company in the world. Especially considering how Trek bikes have so much sophistication built in and around them.
Mountain, Road, City, Electric, and Kids bikes are what they specialize in.
Canyon
Canyon is unique in a way that it enjoys the bicycle manufacturing process almost as much as they enjoy providing their consumers with an unforgettable cycling adventure.
Since its creation in 2002, this German company has demonstrated its value many times over. All of their bicycles have been put through testing that is incredibly difficult and rigorous.
Their products have conquered mountains, acquired world championships medals, and more. Canyon can also transport their bicycles right to your house, saving you money, which is incredibly nice of them.
They have Road, Gravel, Mountain, E-Bikes, Hybrid, City bikes, and even more.
Specialized
In 1981, the bike company Specialized introduced the world's first mass-produced mountain bike, named the Stumpjumper. "If you ride, we're for you" is the ethos of Specialized bikes, which is especially accurate considering they are made by riders.
The company also began backing the Outride program, which aims to improve health and focus by cycling. They started doing it when they noticed how difficult it was for kids to focus in class. That is a noble effort and they should be commended for it.
Do you know, where Specialized bikes are made? Here is the answer.
They specialize in Cross country, Trail, Downhill, BMX, Performance, Gravel, Cyclocross, Triathlon, Fitness, Transport, and Comfort bikes, as well as Ebikes (Road, Mountain, Active).
Cannondale
Originally, The Bugger – the first bicycle trailer – may have been the reason why they garnered international attention, rather than their bicycles themselves. Despite this, they have continued to produce top-notch rides.
The company debuted its first bicycle in the early 1980s, and in 2004 they were one of the first to begin producing carbon fibre frames. That, in itself, is amazing and noteworthy.
Ever since, Cannondale bikes have consistently competed in the Tour de France, sometimes even finishing with a medal. They are now expanding into the ebike sector and creating electric bikes that can compete with all the rivals.
They mainly focus on Road, Mountain, Active, Electric, and Kids bikes. Santa
Cruz
Santa Cruz is a specialised bicycle company that focuses solely on producing vehicles for avid mountain riders.
The company was founded in a garage in Santa Cruz, California, in 1993. They have remained focused on the mountain bike industry ever since.
Obviously, Santa Cruz bikes won't necessarily appeal to everyone. However, if you enjoy the adrenaline of riding down a mountainside, you should give this bike company a try.
As we have mentioned, they focus strictly on mountain bikes.
Scott
Unbelievably, Scott got their idea for their top-notch line of bikes from a skiing pole.
We know, that sounds absolutely ludicrous.
In 1958, engineer Ed Scott founded his business as a manufacturer of aluminium ski poles. Ever since, the company has been developing and evolving further.
The G-Zero, the lightest full-suspension mountain bike that raised the standard for mountain rides, was released by Scott in 1998. Scott introduced the first full suspension mountain bike to the market in 1992.
The company is continually growing and innovating, now having Mountain, Road, Gravel, Cyclocross, City, Hybrid, Kids bikes under their belt.
Giant Bicycles
It makes sense that Giant is called so, there are no two ways about it. Giant, which was established in 1973, has produced more than 6.6 million bicycles. That makes them one of the largest bicycle manufacturers in the world.
Giant creates really durable bikes for practically every type of cyclist out there. They are able to offer bikes at affordable costs because of their high volume of sales, which, in turn, attracts more people.
Mountain, Ebikes, Kids, Road, and Gravel bikes are the ones they're most known for.
Orbea
The Spanish company Orbea, which has been in business since 1840, is another interesting one. Surprisingly enough, they started out creating firearms but eventually switched over to bikes.
Their road bikes perform admirably in any condition and are as light as a feather. They can also be modified to your preferences.
Orbea is most known for its Road, Hybrid, Mountain, Endurance, and Gravel bikes.
Kona Bikes
Their freeride mountain bikes, which are composed of titanium, aluminium, steel, or carbon fibre, are perhaps most renowned for their resilience. They also brought us carbon fibre frames in 2011.
They now produce a wide range of selections, including Mountain, Commuter, Road, Cyclo-cross, and Electric bikes. Not only that, but they sell in over 60 countries internationally.
Where to buy your bike?
The dilemma now is where to look first, presently that you are aware of what you should be searching for. For instance, if you're new to cycling, a store that sells high-end road racing bikes might not be the greatest place to start.
You will end up spending too much money for something that you don't even need yet.
A store that welcomes novice riders will have employees who can guide you through a variety of possibilities. Instead of making a very technical sales presentation, like they would in high-end stores, they will inquire about your plans for the bike.
That way, you will be able to purchase a bike that is best suited for your needs.
If you're concerned about getting a good value, look around in a few stores before making a decision. Get a sense of the bicycles they provide by paying attention to what employees are telling you. Various stores will have bikes from multiple brands.
The staff at reputable bike stores are competent and polite, yet they will operate at your pace. They'll demonstrate how various components function.
Additionally, they will go through upkeep, any service plan bundles they have, and any accessories you should consider.
If they try to sell you something that is incorrectly sized and not suited for you, and if they won't listen to your queries, find another store. The majority of shops are nice, but don't be hesitant to stand up for yourself if something seems inappropriate.
After a month or two, a competent bike shop will often conduct a post-delivery check-up to ensure that everything has settled in well and is still functioning properly.
Should I consider a custom bike?
Consider having a bike custom constructed if you're an avid cyclist who can't seem to find one with the specific features you want.
The maker should inquire about a customer's past experiences with bicycles, as well as what features they liked or disliked.
Every stage of the bike-building process should be recorded and shared with the consumer via social media and/or email.
Ultimately, you will pay less than the price of a super-high-end race bike and receive a beautiful bike made to your exact specifications.
Make sure to utilize a test ride
Even a quick lap around the block or around the parking lot can give you a sense of how well the bike fits and handles before you decide to buy it. You will probably have to leave your credit card and/or identification with them, which is typically their form of security.
Longer test rides are available in some stores, and some bike manufacturers also host demo days.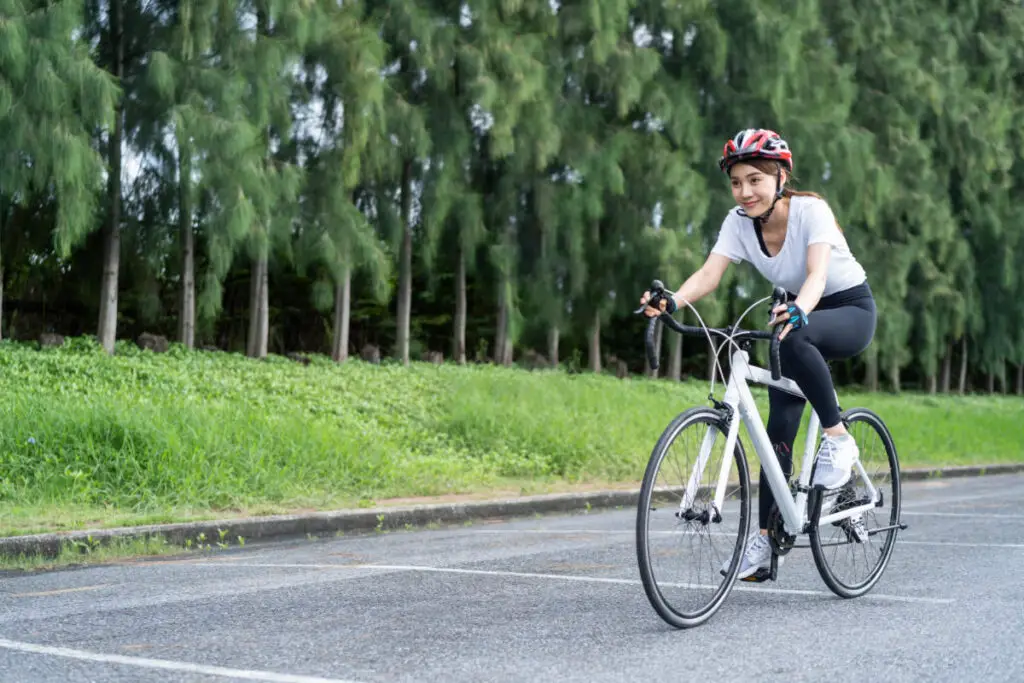 During those days, you will be able to ride a variety of their models on a predetermined route.
If you want to truly know if the bike you're eyeing is the one, be sure to take it for a real ride on some nearby roads or trails.
What if I don't have any physical stores near me?
If you are unable to visit a store, phone any online retailers you find and ask if you may make an online appointment. That also goes in case your store has sold out the bikes you want.
Although it can't match an in-person fitting, they could still be able to walk you through your possibilities and the bicycles that are available at the moment.
If there aren't many new bikes available in the store you're checking, you might have luck on Facebook Marketplace, Craigslist, eBay, Amazon, and similar sites.
Check the bike's brand, model, and year, as well as online reviews before you buy it to make sure it's fitted for you.
When purchasing a used bicycle, check if the seller is respectable and provides free returns. Ask when the bike was first purchased, how many hands did it go through, and how it has been cared for.
It also wouldn't hurt to know where it has been stored and if any components have been updated.
Picking the right accessories
Accessories keep riding enjoyable, safe, and pleasant. The most important one is, of course, a helmet that will shield your head from damage if you crash.
A helmet is one item you should avoid purchasing second hand. Definitely try and get a new one from a bike shop or online.
Opt out for a helmet with tiny holes to keep your head cool during those exhaustingly hot weathers. Also, make sure it has a visor to protect your eyes from the sun (if you don't wear sunglasses).
Additionally, if you want to ride your bike and leave it outside for a short while, you might want to invest in a bike lock. That way, you do not have to worry about it while you go about your business, knowing it will stay where you last left it.
Bike lights will, of course, help you see objects that have no illumination if you plan to ride at night. They will also light up everything in front of you so you can see where you're going.
Also, you might want to purchase a bike bell to signal your presence to oncoming traffic in the form of cars or pedestrians.
To protect your delicate areas from pressure and chafing, you might want to invest in cycling jerseys. They often include convenient pockets around the back to keep food and other stuff, as well as cushioned shorts or shorts liners.
Consider getting an air pump and chain lubricant for the upkeep of your bicycle on the road. That way, you can keep your tires inflated, your chain clean, and your gears shifting easily.
Luggage is something you also might want to take into consideration, depending on what you will be using your bike for. Cycling luggage comes in a variety of styles, from a straightforward travel bag for basic spares, to a full set of carriers and saddlebags.
The latter can be packed with enough goods to travel across the globe with only your trusty bike. The most appropriate option will depend on the type of riding you want to undertake.
Conclusion: Buying a bike is not an easy task
There you have it, all the relevant information you might need before making a purchase yourself. We absolutely adore biking, and we urge more people to start doing it too.
You will start feeling better, mentally and physically, and you will be doing the world a favor. Have you decided which type of bike you are opting out for? If so, what brand has caught your eye?
Whatever your decision is, let us know in the comments below!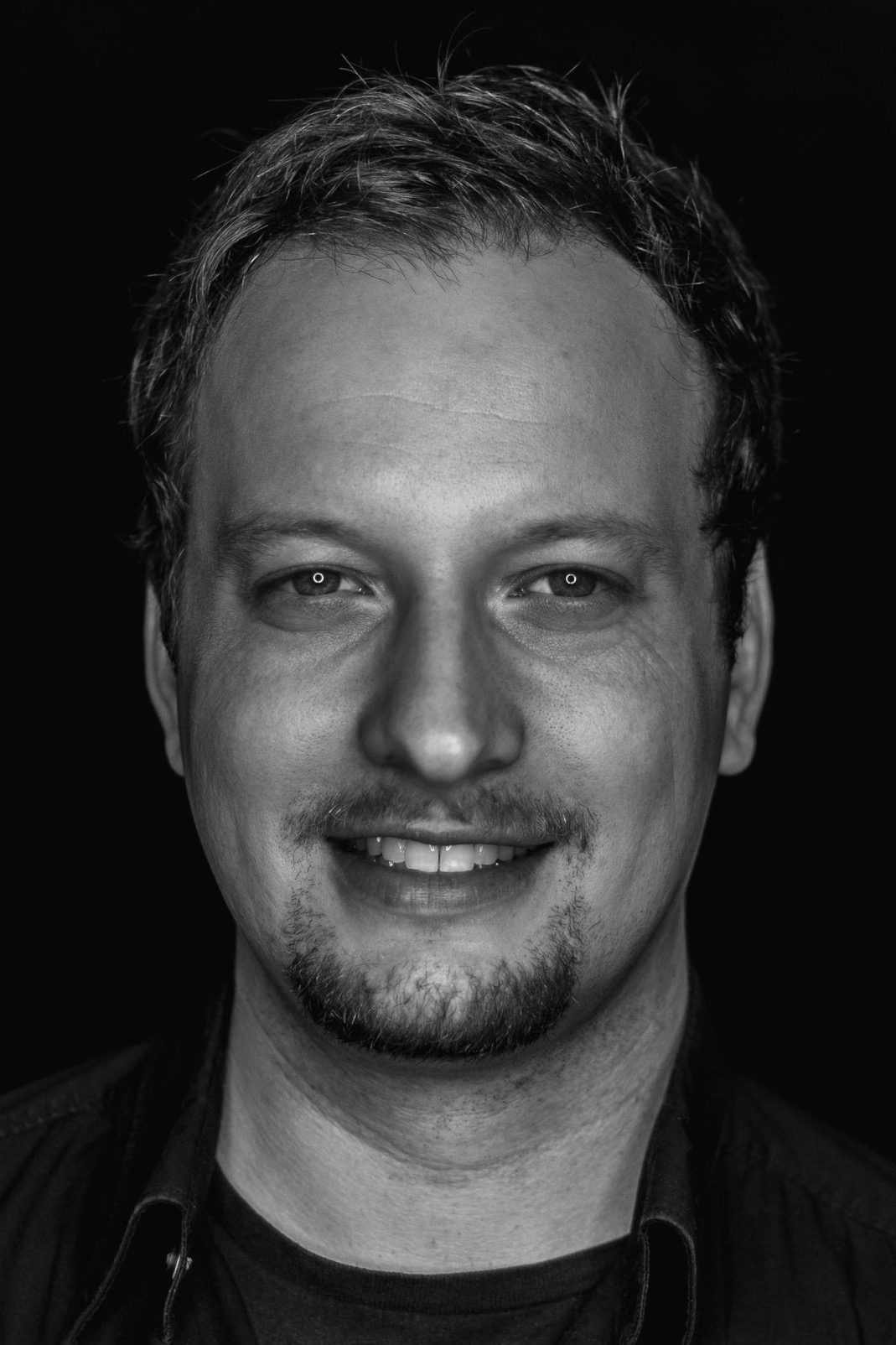 Hi dear visitor! I'm Sebastian, a bike maniac who loves to spend a lot of time on two wheels in nature (I love white chocolate, so I absolutely need a calorie-burning balance that's fun to boot 😅). Blogging is my second great passion. That's why cyclinghalloffame.com regularly features new bike-related content.
Advertising links are marked with *. We receive a small commission on sales, nothing changes for you.